Protect your volunteers, avoid unnecessary contact
At the start of a season, many clubs collect thousands of items - paper forms, cash and cheques. The last thing a club volunteer wants to do is touch and store thousands of different items.
With online membership registration and payments, there is ZERO paperwork and all payments are completed online.
Your club officials do not need to meet your members OR collect items from them. Instead, they can direct all players and parents online. And being online, this service is open 24 hours a day, 7 days a week!
To see how easy it is to get started with online membership and paymentsclick here.
To book a demo with an account manager -click here.
Image: Clubs can track all payments and registrations in real time via the club control panel.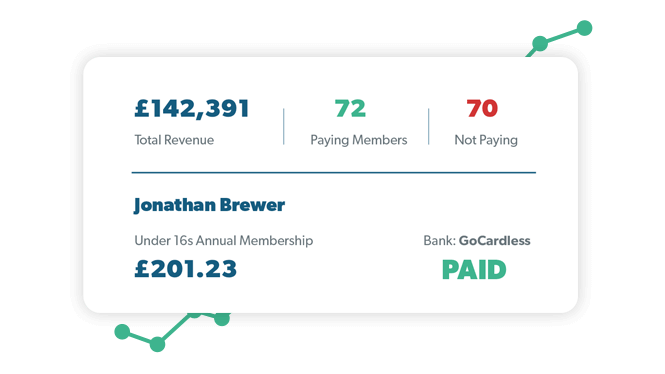 5 ways online registration and payments will protect your volunteers
No paperwork to touch or store
No cash or cheques to handle
No face-to-face contact with hundreds of members
No need to spend hours of time in the clubhouse
No need to visit the bank to pay in cheques or cash

What about match fees/match subs?
Collecting match fees is available to all clubs on Pitchero.
A major update to our mobile apps included a Match Fees feature. Here's how to get started.
A coach can send a payment request to players via the app and collect all money owed online in just a few minutes - no more cash by the side of the pitch.
The result - reduced contact between the coach and players, no cash to collect or store, no visits to the bank. Your club volunteers are protected and safe.
Want to know more? You can book a demo to see how it can help your club and have any questions answered by a Pitchero expert.
How to get started
To see how easy it is to get started with online membership and paymentsclick here.
Orbook a demo callwith a Pitchero Account Manager.
Always open, you can collect anything from membership fees to club kit, set up recurring payments, see who's paid instantly and nudge those who haven't.
You can be up and running in 15 minutes.
All you need is access to your club control panel plus your club bank sort code and account number.
It will help your club generate more revenue, save time and make administration safer.

Club case studies
Read our registration and payments case studieshere. Clubs have found that it makes life easier and quicker for club officials, they can collect more money and members like it for the convenience.